Fleet Complete's innovative technology has been the backbone of many fleet-owning businesses, big and small. Today, the company brings more future-looking partnerships, solutions and integrations on the table to keep helping fleets thrive.
"We are beyond Big Data now. Today our data analytics are enabling Big Knowledge."

– Sandeep Kar, CSO, Fleet Complete
The one thing that everyone can be sure of is that Fleet Complete is sticking by its customer base for the long haul. One of the leading players in telematics for almost 20 years, the company continues to redefine possibilities in the field.
On September 11-12, Fleet Complete brought its annual global summit to Las Vegas to review its product expansion and innovation for the fleet management space.
The summit included vendors and partners like RoseRocket, SymboticWare, ProntoForms, Route4Me, BeWhere, as well as global sales teams and the c-suite. Throughout the summit, they laid out the current trends, solutions and integrations that will see the industry transform in the near future.
Meeting customer needs through cross-platform software
"We are fully integrated with Fleet Complete and get 'actual' versus 'planned' data, which means it takes customer seconds to set up and to get the data from Fleet Complete and our solution."
– Sean Stenson, Route4Me
The era of industry loners is fading fast. Today, solution providers are seeing the bigger picture of interoperability to meet customers' unique needs. This means collaborating with other providers and tailoring integrations to offer mutual clients optimal flexibility.
While Fleet Complete's speciality revolves around connected mobility, there are sides to a customer's business that may need an integral solution.
"A lot of organizations all over the world are looking to get rid of the pen and paper processes and move to digital," commented Amar Makim from ProntoForms, Fleet Complete's integration partner for digital forms. "Our main market focus is certainly North America, but we certainly have partners and sellers all over Europe, Australia and South America as well."
"We are definitely seeing a lot of growth all over the world. We work with almost every single industry. Our focus is on construction, transportation and manufacturing, but restaurant and retail owners also need forms and checklists to fill out."
"One of the most recent cases was with the world's largest provider of Atlantic salmon. Their technicians go on boats and have to do asset management checks on these building-sized cages that collect the salmon. They go out on boats with pen and paper forms; the forms get wet, get blown away in the wind, so we definitely transform their business with 200 users using digital forms."
Route optimization is another key factor in GPS fleet management, especially for businesses that rely on efficient, multi-leg routes.
"Enterprise companies like UPS came to us with a request to have an enterprise app for their drivers to be more efficient than everybody else," said Sean Stenson from Route4Me. "Fleet Complete offers a really unique scenario for us because our app is available in 9 different programming languages, and we are able to provide content on our website in 11 different spoken languages. We are truly set up internationally. We are about 95% global with drivers using our app all over the world."
Freight management
"We are problem-solvers, not just solution-sellers, to our customers."
– David Prusinski, EVP Sales and Marketing at Fleet Complete.
Another big subject discussed at the summit revolved around blind spots in freight and load management.
Some of the biggest pain points concerned the distribution process – freight sitting in the warehouse unshipped, shippers losing money, while drivers get back to home base empty and unpaid.
In 2017, 1.2 billion miles were driven without cargo in North America. Considering that driver's pay relies on the number of loads – driver's margin on a shipment is roughly ~2% – truckers cannot afford to drive empty miles.
Anytime they are putting a rig on the road, they want to make sure it is generating revenue as optimally as possible. A backhaul is the best option because it keep their trailer full, provided that the rate of pay and revenue exceed the costs involved.
BigRoad (a Fleet Complete Company), today, offers BigRoad Freight – a digital platform designed to fill the blind spots in the freight brokerage market. It offers thousands of new shipments a day, including Fortune 500 shippers.
The offering is unique in the industry this far. While competitors only offer location and type of freight available, BigRoad Freight app matches loads based on multiple parameters: driver's equipment, vehicle type, weight, capacity, current location and destination, as well as available drive time to be able to deliver the new load.
The application works in tandem with your electronic logging device (ELD), ensuring compliance with FMCSA for the mandated hours of service. It also allows you to post your availability for shippers to get a Top 10 list of shipment opportunities.
This way, drivers don't have to look for loads. The system does it for them, bringing visibility to the loads that need shipping.
Car sharing & fleet optimization
According to a global fleet survey, 7 out of 10 fleets will offer some kind of fleet sharing service by 2020.
Optimizing the use of resources is a hot topic across the board. Fleets are expensive to maintain, and even if vehicles are not being driven daily, they're still costing money in upkeep that could be better spent in other areas.
Yet, employee mobility is an important factor in many businesses, and the availability of cars needs to be there.
Car sharing offers a cost-effective, sustainable way to reduce vehicle management costs while maintaining employee mobility. It allows to right-size your fleet, put idle vehicles to use, unburden financial budgets and reduce your carbon footprint.
Fleet Complete already offers Fleet Share in Europe for internal vehicle reservation among employees, and the stats show that businesses see 20% more fleet efficiency and better budgeting through this optimization.
Read more about car sharing here.
Move over Big Data, come in Big Intelligence
"We are beyond Big Data now. Today, our data analytics platforms are enabling 'big knowledge' that affects big decisions. We are delivering analysis and insights that are not only predictive but prescriptive,"
– Sandeep Kar, Chief Strategy Officer at Fleet Complete
To this day, our technology has allowed collecting massive amounts of data to be analyzed and interpreted in order to be proactive and predictive with your fleet. From vehicle maintenance to exact delivery times to your clients, you can run your business like a well-oiled machine.
But with the onset of Artificial Intelligence learning, we can do much more. Remote diagnostics, video telematics and prognostics are all upcoming application trends in fleet management.
Enter CONNVEX – a connected vehicle ecosystem with no analogues to date. This platform was developed by Fleet Complete to include more industry participants in the innovation of the connected mobility space. It allows the involvement of various vehicle manufacturers, system suppliers, aftermarket participants, governments and owner-operators on one platform.
To boil it down, Sandeep Kar, the visionary behind CONNVEX, said it best: "CONNVEX is like Amazon web services, but for telematics data." It offers billions of data points to its users to mould and tailor to a wide variety of applications.
Phillips Connect Technologies uses CONNVEX platform for its unique TrailerNet system, getting immediate visibility into all smart components on their trailers (multiple onboard trailer sensors) that come from different manufacturers and suppliers.
Today, with TrailerNet, you can view your fleet trailers on a single interface and diagnose issues associated with tire air pressure, liftgate, anti-lock braking system (ABS), rear door, lights, air lock, refrigeration unit, and air disc brake.
Basically, 26 sensors capturing trailer and cargo data, such as cargo weight, ABS fault codes, axle weight distribution, inoperable lamp, tire status and more.
This helps prevent Out of Service Orders, for example, which grounds the truck and costs a lot.
"As a trucker myself, I believe this is the technology that is going to revolutionize the industry," commented Marc Moncion, Head of Safety, Compliance & Regulatory Affairs at Fleet Complete.
"Any solution that helps reduce downtime is a godsend to companies with fleets," added Kar.
"Every year the presence for OEM-installed hardware is increasing," stated Sandeep Kar.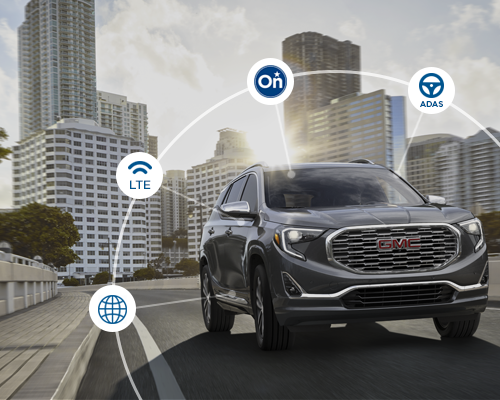 Integrated connectivity of both Fleet Complete software and the original equipment manufacturer (OEM) software yields multiple benefits:
It eliminates the worry for hardware compatibility and the need for device installation, since it's already been integrated into the vehicle.
It allows for fast onboarding and getting your fleet on the road without delay.
It simplifies consumer access to advanced vehicle technologies and analytical tools for fleets of any size and any vehicle type.
It helps reduce the cost of ownership by eliminating wasteful patterns with fleet analytics.
Video telematics
Video analytics in fleet management is on the rise, and there are quite a few things to look forward to. Vision – a new video event recording app from Fleet Complete – is bound to be an integral part of fleet management in the near future.
It's not only focused on fleet safety, but also great driver experience, where they get to be their own coach. The app takes a gamified approach to tracking driving behaviour, much like today's fitness apps, creating a bit of a healthy competition with yourself.
New features are underway to bring video telematics into one comprehensive fleet solution. They will focus on distracted driving, seatbelt status and other contextual video recognition elements.