Everest's Advanced Base Camp. 6,400 metres (20,997 feet) above sea level. Oxygen levels estimated at around 50%. Georgios Tsianos observes the Guinness World Record attempt in LMAX Rugby Challenge.
Follow our 3D map tracking the summit of Everest
As we are GPS-tracking Georgios Tsianos, a Greek ultra-endurance athlete, in his second attempt of climbing Mount Everest to its 8,848-meter-high (29,035 feet) summit, we live vicariously through him during his expedition.
Mt Everest has been one of the most tantalizing pinnacles for mountaineers to conquer since the first recorded success in 1865. It is officially the highest mountain above sea level, located in the Himalayan range on the border of Nepal and China. It presents substantial technical climbing challenges as well as severe altitude sickness, extreme weather conditions, high winds, frostbite, potential hazards from avalanches and icefall, among others.
From 2017 alone, 300 climbers have perished in their attempts to summit the famous giant.
It is a terrific feat of fitness, skill and endurance that attracts athletes like Georgios in their determination to push the boundaries of what is possible and of own limitations. It is the type of mental resilience that we at Fleet Complete are drawn to, supporting innovators internally and externally.
But before starting his two-week-long climb to the summit, Georgios, as a medical practitioner, was to supervise the LMAX Rugby Challenge at the Advanced Base Camp of Mt Everest at 6,400 meters (20,997 feet) above sea level.
This rugby challenge is of a dual nature: One is to raise more than GBP 200,000 (USD 260,000) towards funding projects supporting disadvantaged youth or children with disabilities across UK and Ireland. Second is playing the highest game of rugby in history for the double Guinness World Record attempt.

Georgios Tsianos in the bottom middle next to the furry, four-legged friend (Credits: Georgios Tsianos)
If you're not too familiar with rugby, it is a complex, full-contact sport that comprises tackling, sprinting, jumping, and scrumming among other creative displays of fitness in order to score a 'try' (or a goal). The ideal conditions for a game would involve a soft pitch after some good rain (softer to fall on) and a nice, cool day with temperature in high teens or low 20s. Playing that sort of sport in the austere conditions of the Himalayan mountain range, with oxygen levels estimated at around 50% at its Base Camp and sub-zero temperatures, you face severe shortage of breath, potential hypothermia and joint pain from running on frozen ground.
On April 13th, Georgios and the rugby team departed the UK for Lhasa (Nepal), and we managed to get in touch with him for some updates on his journey. Before reaching Everest, the expedition crossed the many high passes of Tibet to acclimatize and ensure they arrived at Base Camp (5,200m/17,060ft) in good health. After 4 days of acclimatization at the Base Camp, they continued to the Intermediate Camp with the spectacular North Face of Everest in full view and the amazing pinnacles of the East Rongbuk Glacier along the valley.
View from Gyantse, Tibet (Credits: Georgios Tsianos)
The Rongbuk Glacier is an impressive frozen ocean of ice waves. From here, the views of the glacier and the Himalayan peaks are some of the most dramatic in Tibet. Along the east side of the glacier is the trail that expeditions use to begin their climbs of Everest and this is the trail they took. Intermediate Camp (5800m/19028ft) is set in a barren world of moraine hills under beautifully sculpted yellow-orange granite cliffs.
The final ascent to Advanced Base Camp follows the ice pinnacles round to the right of Changtse base to pick up the final moraine band – a group of flattened gravel mounds beside the glacier.
After a day's rest, World Record attempts to play the highest game of sevens rugby and touch rugby at circa 6,400m were fulfilled over the course of April 30 – May 1.
Georgios reports everyone is in good health and condition. It was a well contested match and the team is currently awaiting news of the world record for the highest game of full contact rugby in history.
While the rugby team will be returning to the UK, Georgios has started his summit of mount Everest.
Follow his journey on our dedicated Tracking Everest Climb page and see more pictures from the expedition on Georgios' Instagram.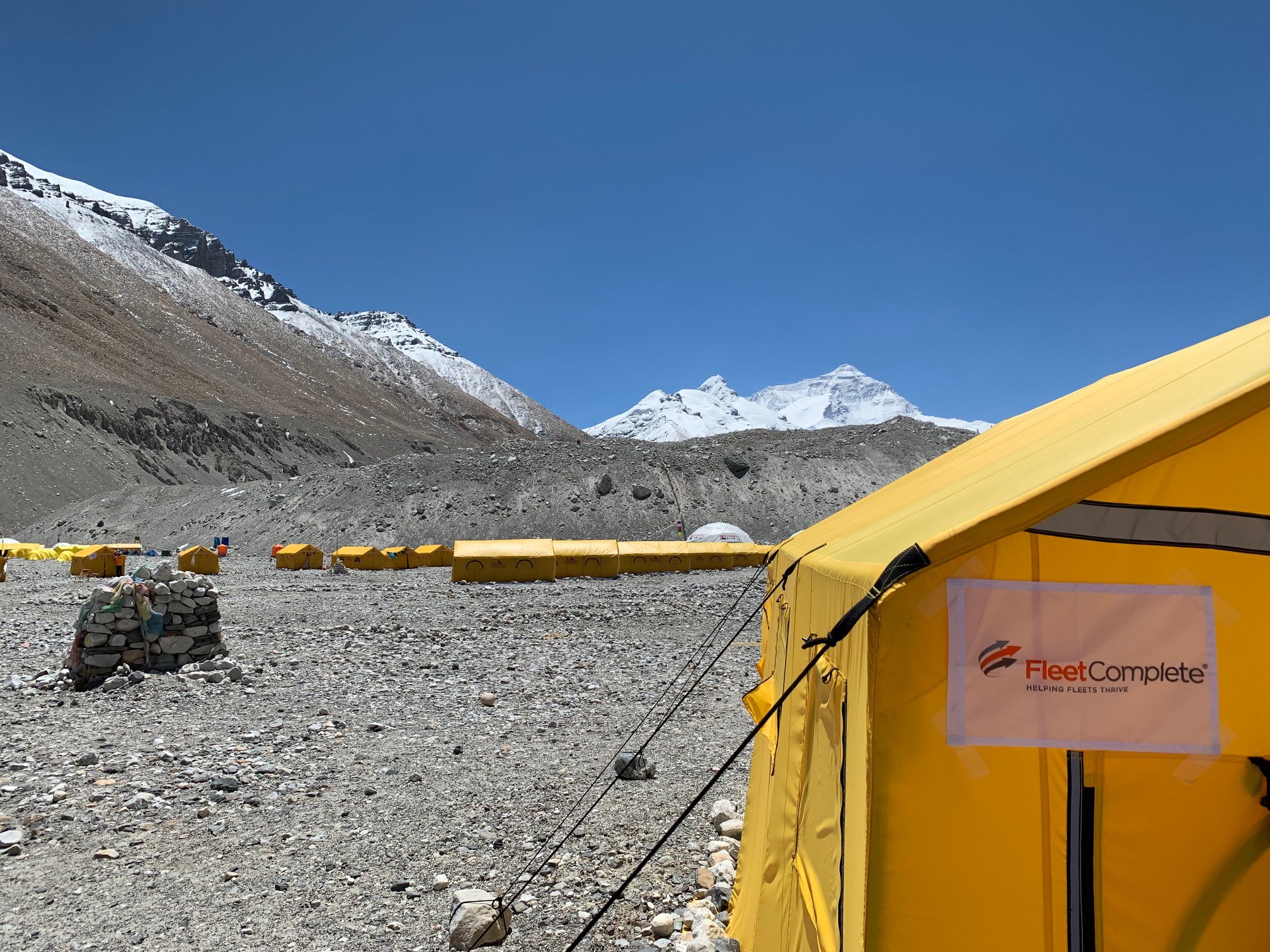 Everest Base Camp (Credits: Georgios Tsianos)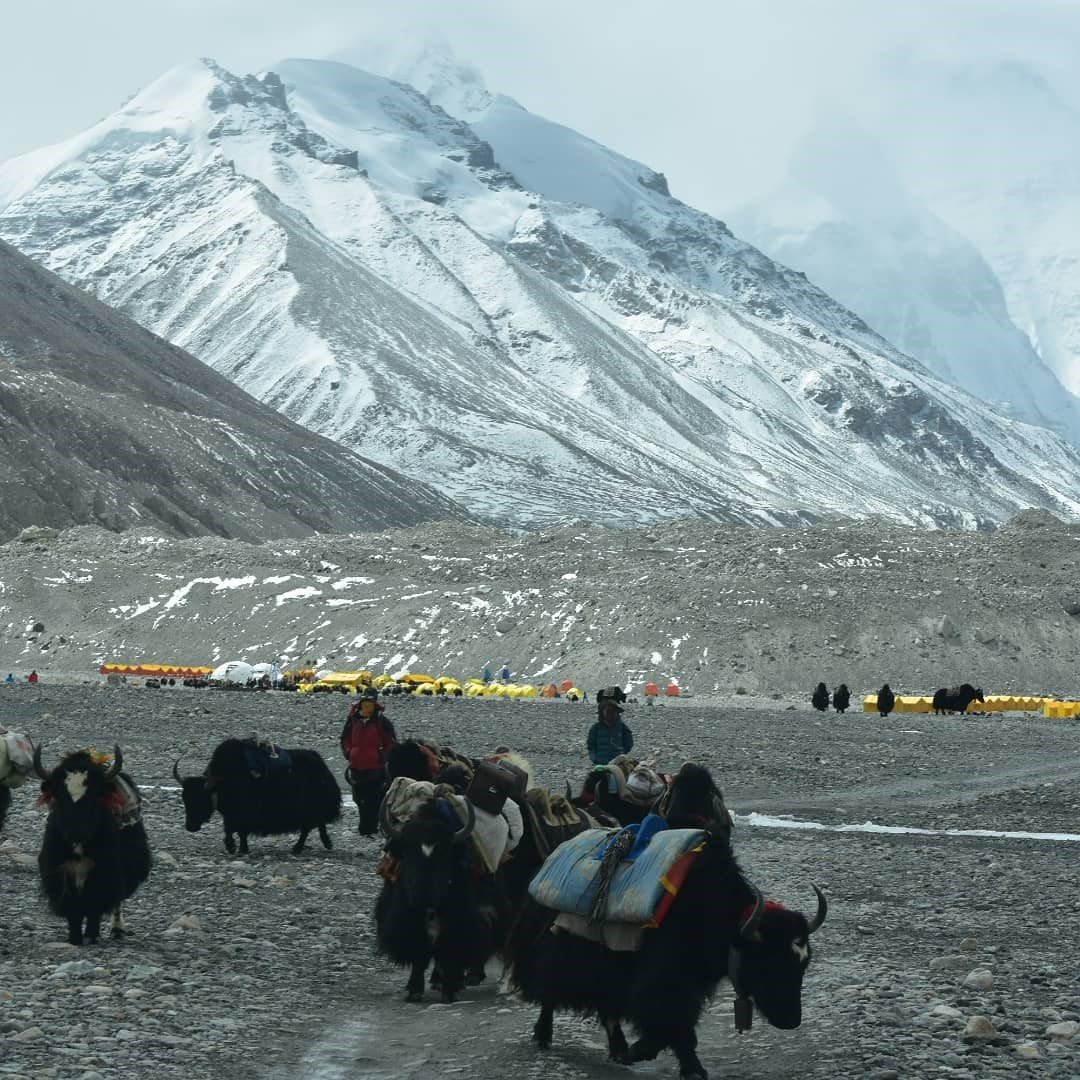 Everest Base Camp (Credits: Georgios Tsianos)
Tibetan plateau and highlands (Credits: Georgios Tsianos)